Shippers have many options when choosing a third-party logistics (3PL) provider. Even with industry consolidations, there are thousands of companies that offer logistics services – brokers, freight forwarders, contract logistics companies, tech-based startups, and so forth. With the widespread adoption of powerful procurement, inventory, transportation, warehouse, and trade management systems at 3PLs, either in-house developed or outsourced, these core systems have become less differentiated and more of a commodity offering. Instead, we have seen competitive differentiation shift towards how effectively 3PLs use these systems and the data within the increasingly digital supply chain to improve outcomes for customers. This is what we refer to as a provider's "IT IQ."
In this Brief, we consider how shippers can evaluate a current or potential 3PL partner's IT IQ and identify and implement initiatives to increase the value such partnerships can create. We also suggest actions 3PLs can take to compete more effectively, and related actions for industry investors.
IT IQ role in the 3PL selection process
A 3PL's information technology capabilities are one of several critical partner selection criteria (Figure 1).
Figure 1: 3PL partner selection fit-gap pyramid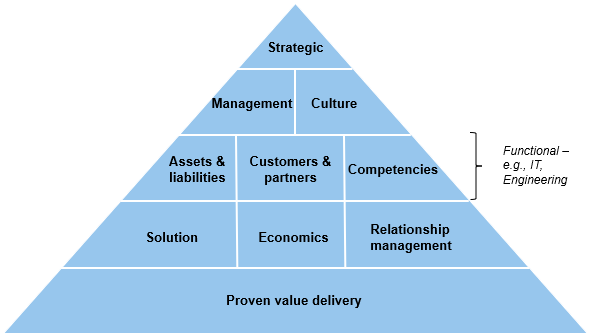 Source: New Harbor Consultants
Today, even the smallest 3PLs have affordable access to powerful execution and planning systems to run their businesses. Software provider cloud offerings are growing rapidly and offering deep capabilities to small and large 3PLs alike. With competing 3PLs using many of the same tools and software providers, how does a shipper rate potential 3PL partners on the basis of IT? Surely, it is more than simply checking the box and moving on to the next criterion.
In these situations, we seek to position candidate 3PLs across six IT IQ dimensions: Strategy, configuration, integration, data, talent and results. In our experience, touting powerful supply chain systems is not enough – 3PLs must also demonstrate strong IT IQ capabilities to transform this power into valuable insights and tangible results for their customers.
Strategy IT IQ
As 3PLs and their customers move to digitize their supply chains, the lack of a clear digital strategy is cited by industry executives as the most significant barrier (Figure 2).
Figure 2: Main barriers to a digital supply chain

Source: "The Supply Chain Digital Disruption," Korn Ferry Institute, January 2018
We look for a clear vision, strategic plan, and roadmaps and budgets defining how the 3PL aligns its IT to the company's overall business strategy and to the needs of its customers. For sure, the role and intensity of outsourced software solutions and technology provider partnerships varies among 3PLs. However, such variations among competing 3PLs in an RFP process are not typically a basis for a higher or lower IQ score. More relevant are the 3PL's vision and plans to ensure year-over-year alignment to its strategic plan and customer needs. Key questions include:
Does the 3PL have a vision for how digitization will drive change at its customers?
How well positioned is the 3PL to deliver new functionality on a timely basis?
Can the 3PL scale its IT as your business grows?
How does its IT budget and investments compare to industry benchmarks?
Is the leadership team attuned to industry best practices trends and innovations (also see Talent IQ below)?
Configuration IT IQ
Today's top-ranked third-party supply chain planning and execution systems offer deep functionality and are highly configurable. Therefore, the extent to which customers will benefit from them depends greatly on a 3PL's intimate knowledge of the systems themselves as well as their customers' operations and unique business rules. System configurations range from, for example, enabling slotting optimization functionality in a WMS to the nitty-gritty of maintaining lead-time parameters for thousands of products in a sourcing and inventory management solution. Getting these systems configurations right from the start is an essential element of best practice new customer onboarding in the 3PL industry.
While we have witnessed some poor system configurations at initial go-live, problems and inefficiencies are more likely to surface over time when the configurations are not properly monitored and maintained on a timely basis. In some instances, the configurations can get so out of kilter that a complete re-implementation of the system may be warranted. Other misses arise when new functionality contained in periodic software releases is not implemented on a timely basis, something that can occur with both proprietary inhouse systems and with outsourced software.
Shippers should also look for a 3PL's investments in industry- and solution-specific system configuration templates and implementation toolkits. These can demonstrate a provider's in-depth knowledge of your industry and best practices and reduce implementation lead time and cost.
Hence, we view a 3PL's ability to optimize and maintain customer-specific system configurations as a key element of a 3PL's IT IQ. Configuration IT IQ is closely aligned to the next IT IQ dimension: integration.
Integration IT IQ
Supply chain IT systems are increasingly linked into a web of other systems – within the 3PL itself and at customers, suppliers, partners, regulatory bodies, and compliance organizations, for example. This also can extend to robots, IoT[1] devices, and news and social media sites. The types and number of linked systems and data feeds are likely to increase rapidly as more supply chain and related business, consumer and governmental activities are digitized.
Hence, integration IT IQ refers to a 3PL's ability to effectively, efficiently and rapidly integrate customers and related parties into this information web. The kinds of integrations required span the gamut, ranging from traditional EDI and internet protocols and formats to emerging blockchain[2] and IoT standards. Because integration IT IQ can drive faster and more pronounced customer results, some 3PLs position systems integration know-how as a key element of their customer value proposition and differentiation.
Data IT IQ
In a recent New Harbor Consultants Brief we highlighted the role of adaptive intelligence[3] in powering the next wave of 3PL industry growth. Data science, artificial intelligence (AI) and machine learning (ML) are hot topics in logistics and supply chain. Indeed, executives at top 3PLs are increasingly pointing to these developments as significant to their respective businesses (Figure 3).
Figure 3: Talk of data science, AI and machine learning is on the rise at 3PLs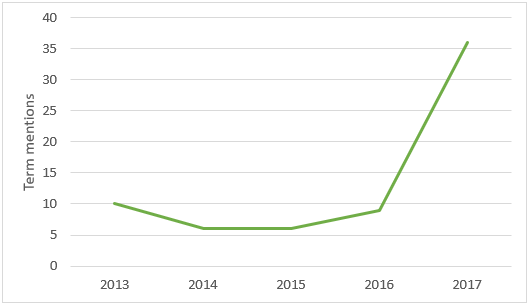 Source: Top 5 3PLs (CHRW, DHL, EXPD, UPS, and XPO, ranked by net revenue) annual reports. New Harbor Consultants analysis of annual report text. 2018 Transport Topics 3PL rankings.
Industry hype notwithstanding, machine learning in particular has enormous potential for 3PLs to help their customers operate more efficiently and make better decisions. ML spans a range from traditional statistical analysis and forecasting techniques to neural network models inspired by the structure of the human brain. These models are particularly good at recognizing complex patterns, learning from past experiences and making accurate predictions quickly – all useful to a good 3PL. But this complexity has a downside: Explaining how the predictions are made can be difficult. An ML model may only work after repeated trial and error manipulations of various hyperparameters tweaked by the data scientists. This model design and training process requires a combination of talent, perseverance and computing power.
That said, a customer needs to understand how these and other adaptive intelligence tools will be used by its 3PL partner to add value to its business. These tools can be rolled out as embedded black box modules in a 3PL's core planning and execution systems (inhouse or outsourced) or as a new collection of tools available to 3PL data scientists and engineers. The ability of a 3PL to translate adaptive intelligence to customer results is a 3PL's Data IT IQ.
Customers should also be aware that some 3PL adaptive intelligence investments are directly targeting their own bottom lines, rather than their customers'. Relationship management and contracting mechanisms such as gain sharing and year-over-year productivity improvement goals can help ensure that your business is commensurately benefiting.

Talent IT IQ
Developing strategies, configuring and integrating systems and transforming data into action takes talented people. Shippers need to be confident that their 3PL partners have the resources required, particularly today when availability of such talent is a logistics industry-wide concern (see Figure 2). After all, 3PLs are still people businesses, albeit increasingly enabled by technology.
We seek to profile the 3PL's IT and related organizations and talent pools in broad groups:
Management
Systems analysis
Project management
Industrial engineering (e.g., design, quality, process, work standards, health & safety)
Data science
Administration/security
A 3PL's culture is an important part of the selection process (Figure 1). Culture greatly impacts Talent IT IQ. It permeates how a 3PL partners with external software providers, attracts and maintains staff, and keeps customer best interests at the forefront.
Results
In the end, a 3PL's systems and IT IQ must be useful and deliver results for customers. In the RFP process, shippers can focus customer reference checks to probe more deeply into both benefits delivered and into how the 3PL's IT strategy, solution configurations, templates and toolkits, integration expertise, data, and talent made a difference. And the shipper can seek to verify whether its IT IQ assessments of the 3PL align with the 3PL's actual customer experiences and results.
In existing 3PL relationships, shippers should ask 3PL partners to explain their IT strategy, how their solutions are uniquely configured to their business, innovative uses of data, and the kinds of talent they have deployed to benefit the shipper. This should all be visible on a day-to-day basis, but quarterly business reviews and annual business planning meetings are great opportunities to refresh and re-energize thinking and future plans.
Actions
3PLs should:
Re-examine their digital strategies and differentiation
Perform periodic self-assessments – how does your IT IQ stack up?
Shippers should:
Consider IT IQ within the RFP process, in service agreements, and on an ongoing basis (e.g., in quarterly business reviews)
Invest the time and organizational resources to help your 3PL raise its IT IQ. You will directly benefit as a result
Investors should:
Understand that IT alone doesn't deliver results – logistics is still very much a people business
Incorporate IT IQ assessments into 3PL M&A due diligence[4] work plans
Powerful planning and execution IT solutions are becoming increasingly accessible to 3PLs large and small. Such technology is a prerequisite to creating value for customers in today's digital supply chains, but it is not a guarantor. Benefits to shippers depend on a 3PL's IT IQ—its ability to transform the technology's power and accessibility into results—results that differentiate themselves in the market, for both shippers and 3PLs.
*             *             *             *             *
Contact us to explore how we can support your strategic, operational, and investment needs: info@newharborllc.com.
Dave Frentzel is a Partner at New Harbor Consultants. Dave brings 30 years of management consulting and hands-on executive leadership experience to improve business outcomes. Prior to joining New Harbor, he held various senior positions at 3PL and supply chain technology companies. Dave has extensive global management expertise, having lived and worked internationally. He helps companies with their global go-to-market, organizational, sourcing, manufacturing and supply chain strategies and operations.
[1] Internet of Things. See "Control Tower of Things: Opportunity for 3PLs" September 16, 2016
[2] For more information, see "Supply Chains and Blockchains" February 16, 2018
[3] "3PLs: Catch this Wave!" September 17, 2018
[4] Also see "IT Due Diligence for M&A – A Value Creation Approach" November 7, 2016