In a word: S&OP. Or even better, SIOP. What's so magical about these processes?

Sales and Operations Planning (S&OP), or SIOP by adding Inventory to the mix, is a critical business discipline. It drives service effectiveness and operating efficiency by balancing supply and demand. As such, S&OP lies at the heart of a company's supply chain. It's a top priority for most companies – especially today for middle market firms. Large corporations have long built S&OP into their core operations. But many mid-sized firms in the $50 million to $1 billion revenue range that could benefit from deploying S&OP have not yet done so. Now is the time to work the magic.

What is S&OP and how does it work?
S&OP (we'll use the simpler and better-known term here, rather than SIOP) is a vital analytical, data-driven means to run operations. It is also crucially people led. It's about sharing objectives, options and decisions across organizational functions. The best process will vary by company and evolve over time. At a conceptual level, S&OP is quite simple (Figure 1).
Figure 1. S&OP high-level diagram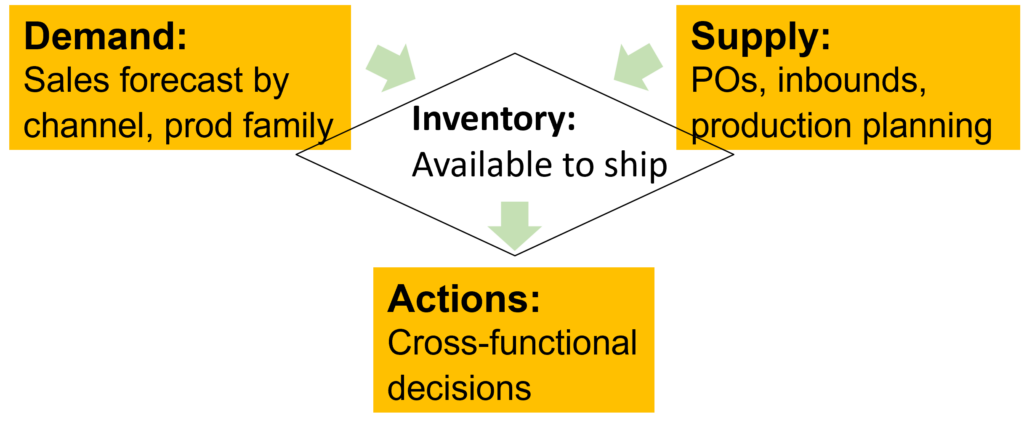 There are five key attributes of well-performing S&OP activities in a company:
Disciplined planning approach. An S&OP process involves closely tracking demand and supply, both actual and forecast. Decisions are made collectively to optimize balance and drive performance, for customer satisfaction, operating efficiency and lean working capital. Shared data underlies the analytics, making plans and actions more transparent and robust.

Inner and outer time horizons. S&OP works across both short- and longer-term timeframes. Broader projections are developed for the longer term, typically in months; these can extend as far out as a year or more. For near-term decisions, a weekly calendar can be used to forecast and track detailed sales results, supply constraints and inventory levels.

Recurring set of meetings. A calendar of meetings is established, on a weekly, bi-monthly or monthly basis. Typically, demand is addressed most frequently, to ensure that sales forecasts are as up to date as possible. Demand meetings tackle customer-specific issues such as unusually large orders coming up, promotions, sell-through trends and market indicators. Supply meetings focus on production (at contract manufacturers or in-house facilities), PO management, inbound transit to warehouses, warehousing performance and outbound shipping to customers. Supply and demand are then brought together at executive cross-functional decision meetings.

Proactive planning. S&OP can flag the need to shape demand, by identifying excess inventories or products that are approaching end-of-life. Customers can be steered to in-stock products to overcome shortages. On the supply side, longer-range sales and inventory forecasts can be shared with suppliers to assure an uninterrupted flow of product. S&OP meetings can lead the management team to consider rationalizing product offerings.

Enabled by processes, people, data and tools. S&OP engages the right people at the right cadence. Meetings consider the most current data and best forward-looking views. They draw on key sales and operational analyses, including a range of options and 'what-if' scenarios. Decision support tools can be used as well, ranging from spreadsheet analyses such as cost comparisons of alternative fulfillment solutions to automated forecasting and optimization engines.

A couple of S&OP stories
The New Harbor team has supported many clients with S&OP projects. Here are a few case examples.
Challenge: Poor service and high inventories. A frozen food manufacturer was concerned at the results of a customer service survey. Fulfillment levels were far lower than those for other suppliers, as perceived by a key retailer. Low product availability (80% to 90%) was coupled with relatively high inventory (7 to 8 weeks of supply). Planning processes were disconnected and there was no measurement of actual versus planned.
With our guidance, a new cross-functional process was designed and implemented, using a simple support tool. This involved a fact-based analysis of key supply and demand drivers; a cross-functional team approach with weekly meetings initially chaired by the CEO; prompt resolution of issues; and cascading weekly, monthly and quarterly reviews.
The results were rapid and dramatic: Product availability rose to over 98% and inventory dropped to 6 weeks of supply. This was accomplished in just 7 weeks (Figure 2).
Figure 2. Getting results fast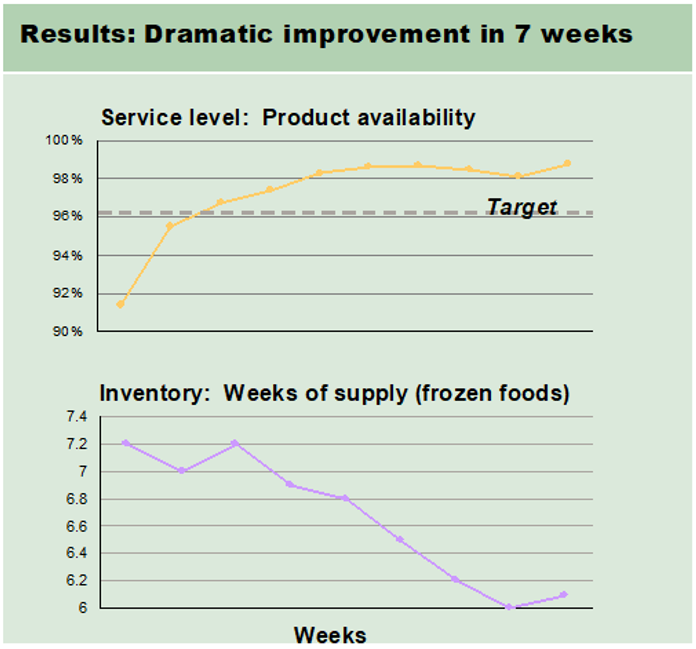 Challenge: How to make a good S&OP process better. This client had developed a monthly S&OP process that had been operating for some time. However, low fulfillment rates driven by pandemic-fueled consumer spending hurt customer satisfaction, a key part of this manufacturer's brand image. While retaining most aspects of the existing process, we recommended key changes to make the process more responsive and better performing. Many of these improvements have been implemented (Figure 3).
These changes led to improved order fill rates with less inventory. This was particularly helpful when the company faced a post-pandemic sales decline.
Figure 3: Improving an existing S&OP process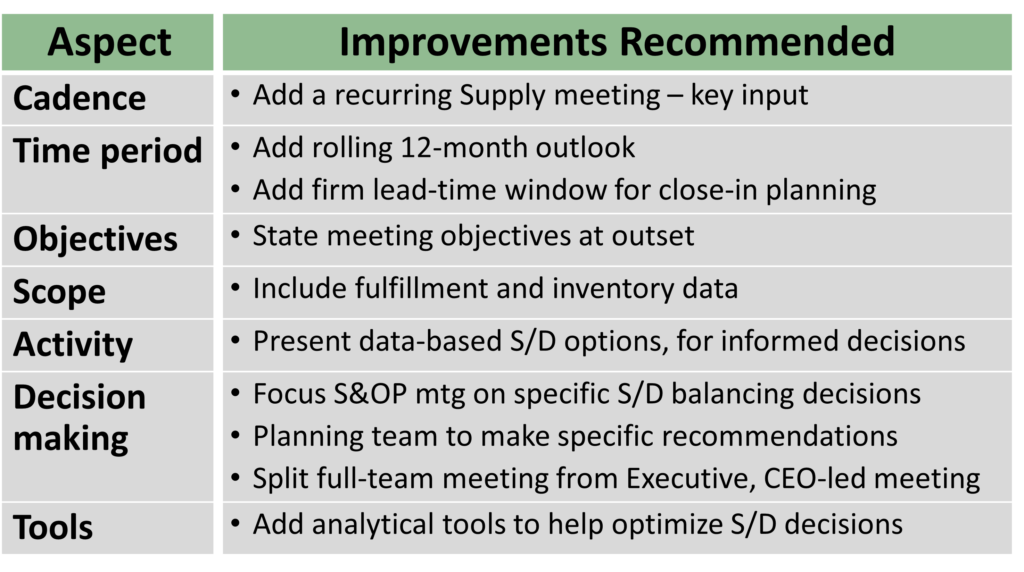 Challenge: Using S&OP to reduce inventory. This consumer products brand, which did not have an S&OP process in place, experienced rapid sales growth during the pandemic. Since then, stock of intermediate goods and finished products mushroomed way beyond immediate needs. Inadequate planning and control processes fueled the buildup.
In this case, immediate actions were taken to reduce existing inventory and cut back on supplier purchase orders. We teamed with the client to regain inventory control and reduce financial exposure by canceling or postponing excess stock on order; reducing overstocks via bundling and BOM substitutions; enhancing planning tools (XL and Oracle) and processes; and tightening physical inventory and recordkeeping.
Inventory on-hand and on-order was slashed from $90 million to $28 million, in the space of a year. Performance continues under control, thanks to a tiered buyer approval process for purchase orders, better planning focused on supply balances for product families, not just at item level; harmonized BOMs across vendors; baked-in consideration of substitute components; streamlining of the product offering; and development of a monthly reporting process. This effort laid the groundwork for moving toward a formalized S&OP process.

Benefits you can expect
A robust S&OP process can help companies strengthen operational performance to better meet their strategic goals. The right process can deliver enhanced results and build a culture of collaboration. Specifically, S&OP can:
Drive revenue. A more accurate view of current and forecast demand and supply can ensure the availability of the right products at the right time – the goal of every supply chain. S&OP can also help to prioritize customer needs in times of limited product availability. And lost sales can be minimized.

Raise EBITDA. Profitability is enhanced by optimizing product sourcing and production costs to meet accurate demand. This leads to savings of warehouse space and staffing, more accurate warehouse inventory allocations, reduced transport costs and lower stock write-offs. Working capital is reduced by cutting inventory of excess and obsolete items.

Better predictability. S&OP helps management deliver planned performance by improving future visibility and avoiding surprises. This is especially critical for middle market companies and their investors.

Enhance teamwork. A strong S&OP process sets the tone for collegial, fact-based, responsive management of operations.

Advice to middle-market senior management
It's not so much if an S&OP process can help but what is the right approach for you. Here are a few questions to help you get started on working the magic:
Strategic objectives. Are teams across the company clear about strategic goals and objectives? How should you measure success? How do you weigh 'on-time in full' customer order fulfillment versus maximizing profitability? Is there a difference between short- and long-term objectives?

Data availability. Dive deep into the data. Do you have what's needed to refresh demand, supply and inventory metrics at the needed frequency? Are the data accurate, timely and consistent?

People capacity. Do you have the capabilities in place to run a good S&OP process? If not, what is the right balance between adding/growing internal capacity versus seeking outside help to launch or improve the process? What are the right roles and how should they evolve over time?

Appropriate approach. What is a reasonable approach to move forward expeditiously? Where is the low-hanging fruit and how can you harvest those opportunities rapidly, without 'boiling the ocean' or waiting for the perfect software? This is a key question for middle market companies.

Raising the bar. If you have an S&OP process in place, are the parties executing properly? We've seen cases where all looked good on paper, but not in practice. Or is it time to up your game, by accelerating the cadence or adding software to drive better demand or supply forecasting?
* * * * *
Contact us to explore how we can support your strategic, operational and investment needs: info@newharborllc.com.
David Bovet is the Managing Partner at New Harbor Consultants. He focuses on helping clients translate their supply chain vision into practical results. David brings 30 years of experience in supply chain management consulting across a range of industries and geographies. Projects focus on strategic direction, operational improvement and hands-on implementation. He is the co-author of Value Nets: Breaking the Supply Chain to Unlock Hidden Profits, about the power of fast and flexible logistics-driven business models.