Dramatic images on TV and our own personal experience at the grocery raise the very real question: Will food, other consumer goods and medical necessities be available when and where we need them? The coronavirus has put a stark spotlight on the nation's producers and supply chains. Limits on how many cartons of UHT milk each shopper can buy, and the frantic search for toilet paper, have left many people wondering if they can get what they need during this unprecedented time of disruption.
The answer: By and large American consumers will continue to be very well supplied with food and household items. The production base and distribution networks are intact and functioning properly. Spikes in demand, driven by a natural desire to stockpile necessities at every home, will cause short-term gaps in certain items. And the toughest nut of all will be to ramp up production rapidly of the equipment and consumables critically needed for healthcare during the pandemic.
We summarize our perspective, as supply chain consultants, below.
Consumer goods
Empty shelves, yikes! Despite pictures like this, the reality is that US consumers will be able to secure adequate supplies of almost all products. Stockouts are limited to a fairly narrow range of products. The shortages are almost entirely due to demand spikes, caused by hoarding instincts, not to supply or distribution problems. Whether toilet paper, rice or beans, average annual consumption has not changed. Demand will revert to normal in due course. Unlike during World War II, supply has not been reduced or diverted to other needs. The balance will be restored soon.
Source: nbcbayarea.com, consulted online March 23, 2020.
Fortunately, about 85 percent of the food consumed in the US is produced domestically1. This is a far higher proportion than for many other items. Consumer electronics, for example, are largely manufactured outside the country. China is a major source and the flows from China have been severely disrupted by the coronavirus outbreak there, preceding and following the Lunar New Year break. The length of the supply chain also means that recovery to normal will take time.
Food, on the other hand, is still mostly grown and processed in this country. Production on farms and processing at packing plants, as well as transportation (mainly by truck and rail) of food is unlikely to be massively disrupted. Other consumer goods will be able to ramp production in a matter of weeks to meet the temporary spike in demand, whether it be for toilet paper or hand sanitizer.
The solution: Consumers need to adapt, with patience, willingness to consider a substitute product, a diligent search of multiple stores and a willingness to perhaps pay a higher price.
Medical supplies and equipment
These items face much more serious constraints at the production level. Ventilators and similar equipment will be most challenging to ramp up quickly. Vast volumes of consumables, such as N95 respirator masks, hazmat suits and latex gloves, will also be tough to produce as rapidly as needed, unless the infection curve can be significantly flattened. The problem in these cases is that a huge and sustained demand increase far exceeds what is possible from the existing supply base.
Solving this problem requires ingenuity and innovation. Fortunately, American industry is good at these things. The globalization of business over the past two or three decades also extends the range of companies and locations that can be brought to bear on the issues. Examples are already apparent: Fiat Chrysler is using an auto plant in China to make a million masks a month. High-end vacuum maker Dyson will build 10,000 ventilators for the UK's National Health Service. Medtronic, which manufactures ventilators in Ireland, is doubling its own output and teaming with Tesla to ramp up US production. Los Angeles Apparel is making surgical masks and hospital gowns at its factory in LA. LVMH is making hand sanitizer for European hospitals. Bauer, a New Hampshire-based hockey equipment maker, is turning out face shields.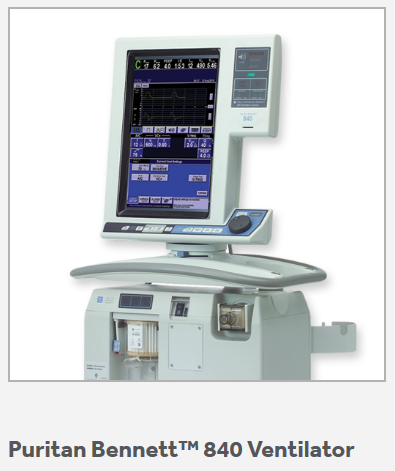 Source: Medtronic, mechanical ventilation product portfolio, consulted online March 23, 2020.
Linking supply to demand
Distribution across the United States is not likely to be a major issue as long as sufficient workers can stay well. Transportation, for example, has capacity. Trucking, which moves 70% of domestic freight, saw its capacity increased by the federal government on March 13, when the hours-of-service regulations for truck drivers were suspended (for medical and food shipments). Intermodal rail, used increasingly to move refrigerated food and other consumer goods across the country, has spare capacity – volumes were down by 7.8% in 2019. The nation's ports are functioning smoothly for cargo and are not stressed for capacity; US container volumes were down in 2019 due to tariffs and trade uncertainty, creating slack in the system. Reduced ship sailings and shortages of empty boxes will be resolved as demand recovers. Air freight is one area of concern, since half is moved as belly cargo in passenger planes. With schedules chopped on many international routes and a return to normal some time off, there is a shortage of capacity and rates have tripled.
Warehouses are more efficient than ever, thanks to the use of robots and other automated handling systems. In addition, labor is being added. Amazon recently announced it is hiring 100,000 new staff for its distribution centers and delivery services. Walmart is seeking 150,000. Kroger is adding 10,000 workers. Granted, some new staff are needed to disinfect and take other steps required by the pandemic but most are being added to expedite the flow of goods to consumers.
Opportunities for providers
Unusual times create unanticipated opportunities. The time of coronavirus – however long it lasts – is a case in point.
Here are ways manufacturers and supply chain providers can help by applying innovative thinking to these problems, leveraging their strengths:
Networking with others. Finding ways to work together with a network of partners to solve a problem. Consider how your strengths can be leveraged in new ways, to meet a demand from another but related industry. Companies in apparel, electronics, perfume, automaking and plumbing can team up to align the capabilities needed to produce sophisticated lifesaving medical equipment. Collaboration is critical.
Locating key components. Almost every medical device or consumable requires multiple components. Complex machines like ventilators are a case in point. These products consist of a set of components. Which ones are the key constraints? Some items are used in other industries, such as automotive, defense or consumer electronics. Is substitution possible?
Speedy qualification. The process of qualifying suppliers is typically lengthy. Companies need to learn to expedite these steps in order to add capacity fast. Traditional procurement approaches must be turned on their head to meet the intense time constraints on producing essential medical equipment and supplies.
Rapid supplier onboarding. Streamlined but safe procedures are essential when bringing on new suppliers. Protocols must be quickly established. Training for front-line employees will be needed, using online tools, to launch and scale up new supply relationships.
Rush distribution. Third-party logistics providers can design and rapidly execute distribution systems to supply fast delivery to end-users. Team trucking, cross-docking, merge-in-transit, air freight, embedded tracking chips and white-glove local delivery services can ensure that products meet urgent customer demands around the country.
Immediate actions
Translate your ingenuity into action. We recommend that manufacturers, distributors and logistics providers take these short-term steps:
Set an ambitious goal. What creative solutions can your organization offer?
Form the team. Cross-functional internally plus your key partners.
Establish a virtual war room. Bring key people together in an online form.
Bootstrap a project plan. Keep it simple, with focused objectives and short timelines.
Reach out to your network. Best solutions will come from sharing needs, capabilities and ideas.
The good news is that more companies are taking action every day to fill urgent needs for medical and household supplies. Yet more aggressive and creative solutions are needed.
At New Harbor Consultants, we are striving to connect our clients and leverage our networks. We stand ready to assist project teams in planning and executing fast-track projects.
*             *             *             *             *
Contact us to explore how we can support your strategic, operational and investment needs: info@newharborllc.com.
David Bovet is the Managing Partner at New Harbor Consultants. He focuses on helping clients translate their supply chain vision into practical results. David brings 30 years of experience across a range of industries and geographies. Projects focus on strategic direction, market positioning, operational improvement and hands-on implementation.
Endnotes:
1 USDA Economic Research Service. "Share of Imports in Consumption Has Increased in Recent Years"